A webmaster should definitely learn to know how to include the contact form into the WordPress site.
A website would look peculiar without a contact page or contact info.
Obviously, whom to reach?
Definitely contact form is a good way to interact with other people that. always let your readers speak their mind.
Hence, you have to add the contact form to your WordPress website. And in this article let us discuss in detail the best contact forms plugins for WordPress site.
There are a plethora of WordPress contact form plugins available both free and for premium.
---
Best WordPress Contact Forms Plugins for Your Site
1. Gravity Forms – The Best WordPress Forms Plugin
Gravity Forms are one of the popular WordPress plugins and it is used mainly for contact forms in some cases this allows the owner site to create forms on their own and also it collects the information to use the contact forms.
1. And it is the most popular form which is very easy to use and consists of calculators, employment application, details, post creation, and many more application forms.

2. It is an open-source product that is very easy to modify and it is included with the number of filters and hooks and you can easily customize the form according to your own content.

3. It is one of the different licenses to protect which can be easily downloaded and installed and there are many multiple digits available on the dashboard you can create a form by yourself in an attractive way.
---
2. Ninja Forms – Drag and Drop Form Builder for WordPress
Ninja Forms is also a WordPress contact builder form which is very user-friendly and here you can create a lot more friendly word press products in a beautiful way and also it makes the user very professional production.
1. It is 100% user-friendly and there is no problem regarding the coding process you can design a complex beautiful form that is very dedicated to supporting the issues and it is very easy to handle a professional team.

2. These WordPress forms are very easy to drag and drop the fields and there are many easy columns and roll layouts with multiple page formats and you have a lot of design to create a beautiful word press website. You can create many creative forms and upload and share as a pdf file and even Microsoft Excel and even you can create as a Google sheet it is a different type of experience to use this Ninja forms it is very customizable to use.

3. Ninja forms are very accessible and more responsive it adapts the design team to blend perfectly and you can feel a perfect look to choose the exact word press theme.
---
3. Happy Forms – Contact Form to Manage and respond
Happy Forms are one of the simplest ways to manage and to respond to the conversation very easily and there are many customers for these happy forms it is a very simplest and user-friendly product.
1. Here in this product you can easily drag and drop of the builder and you can create many live preview forms easily.

2. This product is very user-friendly and you can easily create posts widgets and a number of multiple pages in a very responsive way.

3. Multi-column layouts are generated with duplicate forms and you can easily receive the confirmation message after submission and even you can send a confirmation email to the recipient to check the message so it is one of the easiest forms that is introduced.
---
4. Formidable Forms – Contact Forms, Surveys & Quiz Forms Plugin for WordPress
Formidable Forms can be created very easily and there are only a few simple steps to be followed to create the easiest form double word press theme.
1. Just when you click and add new at the top of the page you can easily create a blank form in that you can create a new name and start building the fields either you can even drag and drop the sidebar to add the fields in the form.

2. It is very user-friendly and you can easily update to save the form this is very easy to use and it is very functionality you can even publish your form double form in your website. Adding templates and creating templates in the form is very easy and it's customizable.
---
5. Contact form 7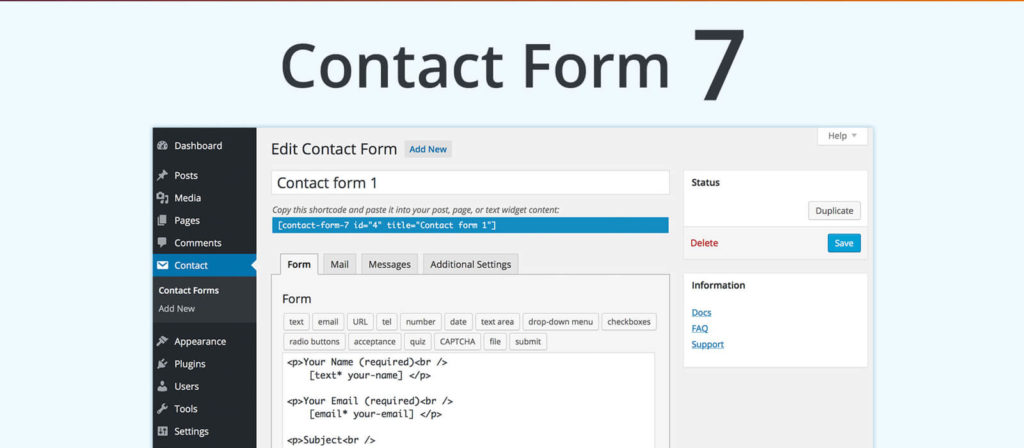 Word press Contact Form 7 is one of the most popular plugins and it is very easy to create and generate forms easily and it is very user-friendly.
1. The teams are very integrated to form the contact forms and offer the customization and high-level optimization process.

2. The contact form 7 plugin discusses the entire customization process and it is featured in an attractive way in which the customization options are fitted in a very unique way for integration and implementation process.

3. Here you can easily create a contact form on your word press dashboard and you can easily manage multiple forms from this location.
---
6. WeForms – Easy Drag & Drop Contact Form Builder For WordPress
WeForms are very easy to use and here you can easily adapt to develop a user-friendly project.
1. It is undoubtedly very easy to form a new word press builder and here you can imagine a lot more plug-in to create the imagination into reality.

2. Creating a new type of form is absolutely the best experience for easily dragging and dropping the buildings and you can easily create as per your imagination

3. A lot of templates are created in an attractive way and you can easily manage and design We forms easily.
---
7. WP Forms – Drag & Drop Form Builder for WordPress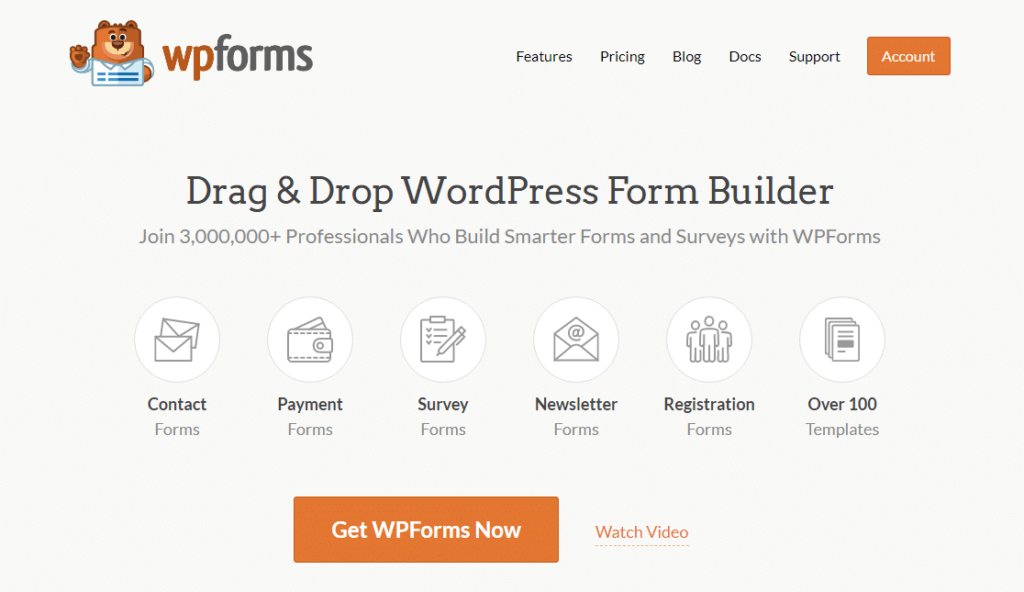 WP Forms are very easy and you can easily drag and drop it out WordPress.
1. In WP forms you can easily create online survey contact forms without any registration codes.

2. The WordPress form builder is easy to build the template and it can be easily customized to scratch the features in an exciting way.

3. Easy integration is available in Word Press theme and you can easily customize the products to extend and create the functionality of the custom in an easy way.
---
8. Caldera Forms – More Than Contact Forms
Caldera Forms is very powerful and it is a free plug-in to create responsive forms and you can easily drag and drop the editor it is a user-friendly product for both web developers and beginners.
1. It is a simple editor product you can create multiple columns many new additional pages you can create responsible logic products and it is very relevant information to create the site visitors and attract customers in a unique way.

2. There are many attractive features that are designed initiative and you can easily drag and drop out the products and here many grid field types are available such as radio, dropdown product, calculation, and file loading process.

3. There are no limitations for this form you can do unlimited autoresponder products and it is very responsive.
Final words
People who all are looking for WordPress contact forms for a long time, then the above discussion will be helpful as well as supportive of the whole.