When researching different hosting solutions, you'll come across various hosting types, such as shared, VPS Servers, Cloud, and managed dedicated server. Despite the name, what exactly are dedicated servers, and which applications are best suited for this hosting?
An enterprise-grade physical server used to host the websites, applications and services of a single hosting client. Dedicated servers are typically used to host high-traffic websites, web applications, and other hosting scenarios where speed is critical.
The most used hosting options are shared hosting, cloud hosting, VPS hosting and dedicated server hosting.
A dedicated server is hosted in a single-tenant environment. Most infrastructure hosting alternatives divide a server between two or more users; for example, cloud hosting systems divide a real server's resources across many virtual machines. None of the multi-tenant hosting configurations, such as shared hosting, provide the resources and performance of a dedicated server.
Dedicated server hosting gives you access to everything the server has to offer, which is why dedicated servers are the most reliable infrastructure hosting option – no other hosting option can compete with the power and flexibility of dedicated servers.
When researching dedicated servers, you'll come across the term "bare-metal server." A bare metal server is the same as a dedicated server.
What is a Dedicated Server?
A dedicated server is a computer that functions similarly to the desktop computers that you use at home or work. Processors, memory, storage, network equipment, and buses connect the various server components.
Dedicated servers do not resemble regular servers and do not contain the same components. Dedicated servers employ enterprise-grade technology, which is more reliable, less prone to failure, and far more powerful.
Benefits of Dedicated Hosting
1. Exclusive Resources
A dedicated server's RAM, disc space and bandwidth will be dedicated to your website and hosting needs. You also have root access to the server, allowing you to install and remove software as needed and change settings. If you want complete control over your web hosting, a dedicated server is, without a doubt, the way to go.
2. Enhanced performance
You won't have to worry about anything with a dedicated server because you'll have access to top-of-the-line performance, memory, RAM, and loading speeds. Take your website and hosting to the next level with the most power, storage capacity, and bandwidth available.
3. Improved security
The server infrastructure of a dedicated server includes firewalls and round-the-clock security monitoring, so you can rest easy knowing your data is secure. Most dedicated servers also allow you to customise the level of security you want, allowing you to find what works best for you.
4. Reliability
One of the most obvious and essential advantages of a one-of-a-kind dedicated server is its stability. Nothing is infuriating than a sudden server failure while operating a website or playing an online game. However, when you have a dedicated and secure server at your disposal, this scenario becomes much less likely.
When to use Dedicated Server Hosting from MilesWeb?
1. When you have a lot of traffic on your website
High-traffic sites and eCommerce sites are hosted on one or more dedicated servers. Hosting a website with thousands of concurrent requests is expensive in terms of resources, so many site owners prefer to "scale up" to a more powerful server rather than "scale-out" across multiple less powerful servers. It is easier to choose a more powerful dedicated server than it is to set up a cluster of less powerful ones.
2. When you need to host a number of websites
Web hosting companies and service providers that provide web hosting use dedicated servers. In reality, much smaller web hosting companies use dedicated servers rented from companies like MilesWeb to expand their offerings. They provide one of the best windows dedicated server and Linux dedicated server.
A high-end server can support hundreds, if not thousands, of low-traffic WordPress sites.
3. Benefits of Getting a Dedicated Server from MilesWeb
MilesWeb is the market's best web host, providing the best dedicated hosting plans and services. The company offers low-cost web hosting services. They also have the best support staff to assist you 24 hours a day, 7 days a week.
MilesWeb's expertise in dedicated server technologies can be relied on. In no time, you'll be able to host your resource-intensive website or application, run it on a reliable infrastructure, or customize it to your needs.
MilesWeb provides 100% dedicated hardware, low latency, and superior security. In addition, they provide full root SSH/ RDP access, high-speed SSD storage, server deployment in 4 hours, and no setup fees. MilesWeb provides a dedicated server in an India TIER IV Data Center.
MilesWeb allows you to select the control panel of your choice, with cPanel, Plesk, and Webuzo, you can easily manage your bare metal dedicated server. If you've decided to use CentOS for your dedicated server, you can use cPanel or Plesk for CentOS, Debian, or Ubuntu, and Webuzo for CentOS and Ubuntu.
Dedicated Hosting Plans by MilesWeb
Key features with all the dedicated hosting plans by MilesWeb:
Unlimited Website Hosting
SSH Root Access
High-Performance Guaranteed
Free Setup Without Any Contract
Reliability
Security
100% Dedicated Resources
Customizable
Hardware Level Control
Powerful Servers
Hardware RAID
Premium Bandwidth
Private VLAN Subnets
Robust Network
IPv4 and IPv6 addresses
Service Level Agreement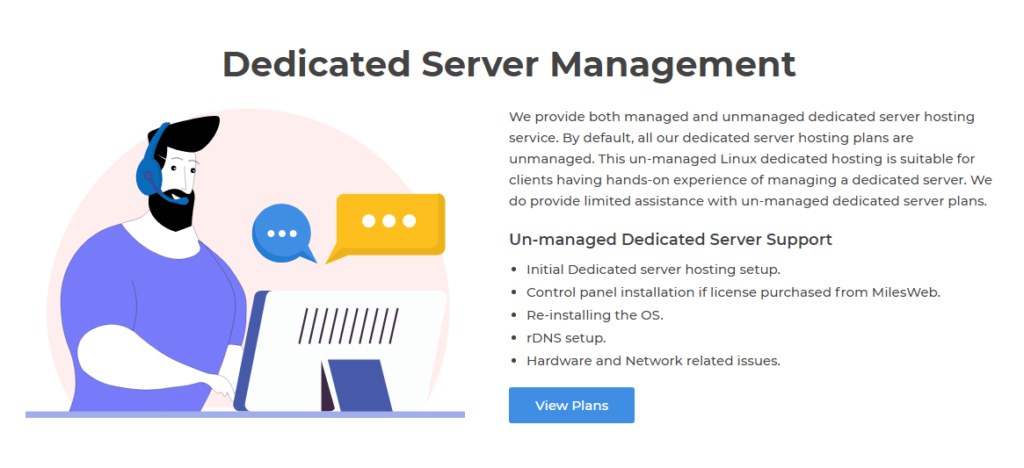 Final Words
To summarize, MilesWeb is the best dedicated hosting service provider because it offers 24x7x365 customer service, a 99.99 percent uptime guarantee, the best security, and the best performance for websites hosted on their dedicated servers.