Choosing a proper maintenance mode plugin for your new WordPress site could be a pain, as there are plenty of options available in the market and you might be in a dilemma which one to go with.
This is where going through the unbiased reviews makes sense. And after using this plugin for a while I am going to review it and put some more light into it. Let's jump into the minimal coming soon plugin review and choose the best WP maintenance mode plugin for your site.
And if you are thinking why would even need a maintenance mode plugin for the new site as you are ready to make it live after buying a domain and hosting services for it.
Heyy! Wait a minute,
What about the content? What about the pre-marketing strategies?
And have you ever thought about the structure and customize your site better and make the right impact on your audience.
You will understand this if you agree with "the first impression is the last impression"
This is where a good coming soon pages going to work for you, makes sense even if you are developing your clients business website.
Minimal Maintenance Mode WordPress Plugin Features
Although there are several awesome features in this unique free WordPress plugin. But, I will let you go through a few important and unique ones which you might haven't imagined in the coming soon plugin premium one.
Several pre-made themes
After installing anything, the first thing we will look into how we could make it better. No one like things in basic theme.
Fortunately, this plugin offers more than 60+ themes to choose the right one. That means you have plenty of options, who doesn't like options.
And it's wise to have a professional Coming soon page which communicates well with your readers having all the elements in place.
Design The Layout You Like
If you think your maintenance mode page needs a makeover, then you can do it on your own.
Although it won't be possible if you don't like the above 60+ themes? You have an option to design your own Under construction page through the drag and drop editor.
Just like any other well-known drag drop editor, but surprisingly here you can found it a maintenance mode plugin. Have you ever imagined that? But, yeah certainly, that makes the job easier.
Yeah, that's right, what could be better if you are in control with your own page design with almost 10+ modules.
SEO Configuration
It would be a great idea to 'modify the titles and meta description of the pages and have a control over how your website would appear on Google while it is in Maintenance mode.
We all know that google crawlers pulls up the data and shows the current status of the site in the SERP.
But, it would be a bad idea for a brand to shows as the site is in under construction. Instead, it would be good to have the site name along with the meta descriptions.
This plugin allows you to edit all the required data and make the website SEO Friendly. And though it shows the live SEO progress result so that makes it pretty much easier in the configuration part.
Share Access to Specific People
Now, this is something unique, as you can share the access to any specific people to see the site without giving access to the WordPress backend.
That means your site is in maintenance mode with a coming soon page installed, but still, someone could view it obviously whom you want to see it.
Start Creating your Email List
If you are not creating your email list from your viewers and readers, then you are missing a lot.
Collecting emails are one of the finest ways of marketing. And apparently making your visitors into a returning visitor.
Email Marketing could be useful in several ways, creating a brand, getting continuous sales and connect with your readers. Connection and bonds matters for a successful business.
It's important to collect emails from the first day and keep on doing that.
And this coming soon and maintenance mode WordPress plugin will certainly going to help to do that. You can swiftly integrate an email subscription in the coming soon page.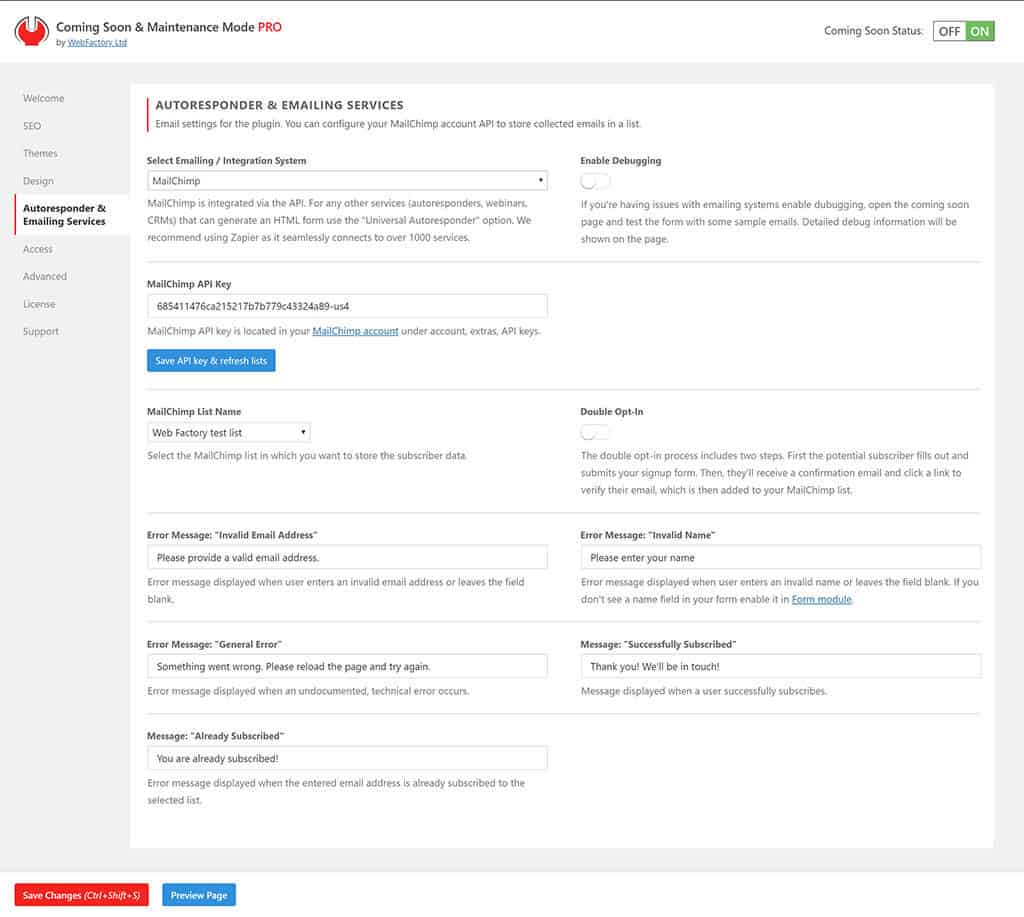 Auto Responder
apart from collection email, this tool will also auto-respond to the subscriber after integrating with yours, fortunately, it also supports MailChimp so that you can quickly get started with for free. Once and for all, you can sit back and relax the form will do its job.
What about the Pricing?
Despite having so many options in place, still, it fits in the pocket very well. The basic one just starts from $19 per year and that would be good enough for a single website owner.
And if you would like that license for a lifetime, spending $69 would be a great deal.
However, if you are a freelance or an Agency who deal with several clients simultaneously, then "Agency Unlimited Lifetime" license is just for you at $199 lifetime.
Pay once and sit back forever. Personally, I would like to buy any digital products which offer a lifetime license. here is the fair deal.
Final Words on Minimal Coming Soon WordPress Plugin
I have used many of the Maintenance Mode WP plugins and found this is loaded with useful features.
It offers great themes and allowing it to edit through the drag and drops. Inbuilt SEO features to have a full control over how your pages are going to look in the Google Search Results.