Search engines play a significant role in enhancing the traffic towards websites. But, along with a fast loading site, It will get even better if you are using an SEO friendly plugin for it to rank your content.
The market is full of different kinds of plugins and hence it could be a daunting task to choose the best SEO plugin for WordPress among all.
After having some trials and failures, I am here to help you to choose the best SEO plugin for WordPress site so that you don't have to go through all those.
---
Best SEO plugins for WordPress For better Optimization
I am here with some of the best WordPress SEO plugins that can help you in improving the SEO for your website. A good SEO plugin makes your content better and lets it reach everywhere through the search engines.
I hope the best SEO WordPress plugin here will be helpful for all the seekers out there.
---
SEO Plugins For WordPress – Install one of them
Installing one of them, mentioned in the table would be great for your Website SEO. Along with these I have also mentioned some additional SEO plugins at the end.
---
1. RankMath
Wondering why RankMath is first in the best SEO plugins list as its quite younger.
That doesn't matter if the product is extraordinary.
If you are a blogger and working on WordPress, then you certainly heard of MyThemeShop.
They are the most value-added SEO Optimized theme Providers in the industry.

They have even come up with a revolutionary plugin and one of the best SEO plugins for WordPress free of cost. Yup, its RankMath, which has all the pro features which can help you optimize your content like never before.
In added to that, it has many features, which can make you get rid of many plugins out there. And yet became very popular in a very short span of time.
---
2. Yoast SEO
Yoast WordPress SEO plugin for WordPress holds the rank in the list and one of the best SEO plugin for WordPress that is currently being used by millions of users worldwide. Old and very popular.
It is a comprehensive solution for your onside SEO needs that help you a lot in gaining more traffic to your hosted websites. You can use this excellent plugin for adding titles, Meta descriptions, and Meta keywords on your blog post or website.
Moreover, it also offers you the opportunity of customizing your hosted sites and blog post as per your choice and preferences.
One of the best things about this nice plugin is that it enables you to add open graph metadata, twitter cards, sitemaps and a lot more to your updated websites.
If you are looking to make your site accessing much faster than you have viewed it before, Yoast plugin is one of the right choices to make it.
---
3. All in One SEO Pack
As the name describes All in One SEO Pack, it is a complete package of dealing with the different aspects of SEO.
It is one of the most excellent SEO plugins for WordPress that offers you a powerful platform to work on. This plugin was being introduced into the market in the year 2007, and till then it is successfully serving as a perfect solution for SEO related challenges.

One of the best things about this beautiful plugin package is the more straightforward and user-friendly interface that makes it easy to be used by everyone.
The plugin is well designed and developed to support XML Sitemap and Google Analytics support effortlessly.
Moreover, you can also use it for optimizing the titles of all of the search engines automatically. If you are worried about generating META tag, keep this worry of yours as well aside, as ALL in One SEO pack is there, that will automatically do it as well.
It is a perfectly safe and secure platform that is being designed with the involvement of different security filters and checks to prevent the generation of duplicate content on it.
---
4. The SEO Framework
The SEO framework is being loved by the people who are quite concerned about their site speed.
Yeah, apart from being very robust in terms of features it is super lightweight without any advertisements.
Yeah, it's free too.

SEO Framework lets you do SEO for your blog post with ease and simple manner. Don't tend to confuse the webmaster at all. Due to whatever reason if you are not choosing Yoast SEO, then this could be the perfect alternative SEO plugin for your WordPress site.
---
5. SEO Press
SEO Press interface looks simple and interactive, yet give you all the power to optimize your content.
Just like other plugins, offers to take care of your on-page SEO like a meta description for any given keywords along with the suggestions on readability.

Ease to create HTML and XML sitemaps too. It also allows you to optimize the Twiter cards and the Open Graph. And all this comes with no ads at all, even in the free version.
And moreover, you can also track your visitors easily with Google analytics.
Creating your highly SEO Optimized content could be a piece of cake with SEO Press.
---
6. Squirrly SEO
Squirrly SEO is certainly unique from the rest of the SEO WordPress plugins in the list.
Why?
You just need to start writing on any keywords. And then you will see magic happens on the right side of the interface with the highlighted green buttons.

Those are nothing but, recommendations yo include in your content to optimize it well. SEO Squirrly sits next to you as an SEO expert and says all the possible things, which would let you write a highly SEO optimized content and rank for it.
Hey, these all happen in absolute real-time.
Here, is what I was talking about,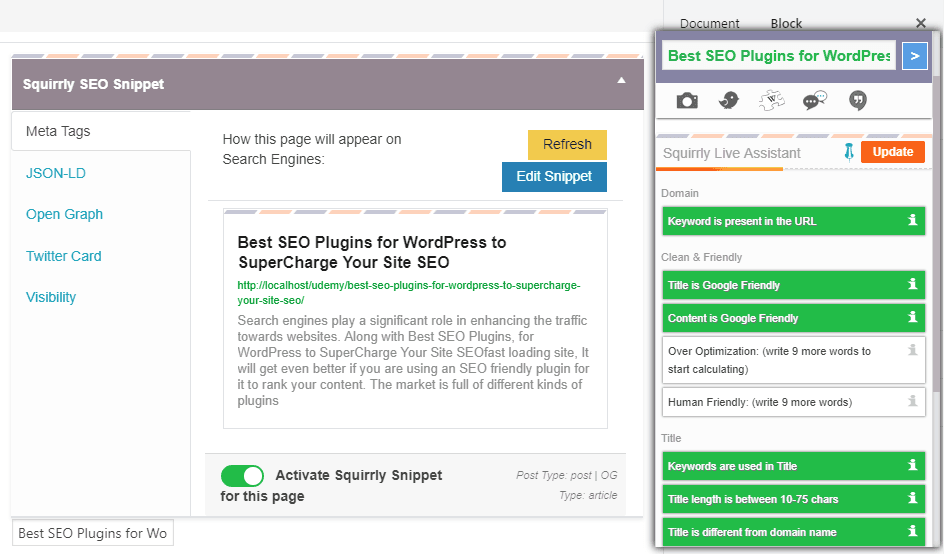 This tool is super-simplified for the non-experts and this is what makes it unique and makes it stand out from the rest.
---
7. Premium WordPress SEO Pack
Last but not least names in the list of the best SEO plugin for WordPress are Premium WordPress SEO pack.
As the titles states, it is a beautiful source that is going to offer you a healthy set of tools to make the SEO of your website friendlier.

The only thing that you need to do here is to pay some amount to enjoy the unlimited opportunities provided here.
Premium WordPress SEO Pack is one of the best plugin sources that you can use for enhancing the SEO value for all of the WordPress websites and blogs.
If you are willing to have a plugin source that can improve the visibility of your website or blog on different search engines and postings on social media accounts as well, Premium WordPress SEO pack is just the source you can choose upon hassle-free.
One of the best things about this beautiful plugin is its compatibility. It runs seamlessly on collaboration with different other plugins as well.
---
8. Broken Link Checker WordPress Plugin
Broken Link Checker is another beautiful name in the list of best SEO plugins for WordPress websites that offer you a straightforward interactive interface to work on.
Along with the simplicity of functionality, this fantastic plugin option is also known for its power and strength as well in its own genre.
Your website internal and external links can break any time and that's not good from an SEO perspective. You can effortlessly use this excellent platform for scanning your WordPress website continuously for the broken links and hence helps the users a lot in fixing those fractured links with ease.
You might have seen some time 404 error showing on some websites or webpage, it nothing else but disturbance caused due to dead ends for search engine spiders.
Broken Link is just one of the most excellent options to deal with such annoying issues successfully and that too without charging any extra for that.
Pro Tip: Though this plugin scans your WordPress website continuously, and eats up some resource of your website. Hence if you are concerned from the performance perspective, you can scan your website and disable it later. And re-activate it when, when needed. I recommend you should scan for all broken links once a week without fail and fix those link.
Hence if you are concerned from the performance perspective, you can scan your website and disable it later. And re-activate it when, when needed. I recommend you should scan for all broken links once a week without fail and fix those links.
---
9. Rel NoFollow Checkbox
Think what is this?
While creating content, you might help your readers to navigate through some internal and external links from your website. This is certainly a great strategy for a better user experience.

But, the search engines consider things according to the quality of links. You should let the link to be do-follow when you are interlinking and also for some authority and niche relevant sites.
On the other hand, if your site is linked to another spammy website passing all the link juice from your blog. Search engines will see this in a manipulative way and might penalize you.
This is where Rel No-follow plugin will help simplifies things. You can decide, where you don't want to pass the link juice.
For instance, if you are a blogger or Affiliate Marketer, then you might link a website again and again with the affiliate links. So here, instead of making it do-follow link, you can make those a no-follow link.

---
10. All in One Rich Snippet WordPress Plugin
All in One Rich Snippet is another beautiful name in the list of best SEO plugins for WordPress that will help you a lot in enhancing the visibility of your website on different search engines.
So that you can gain the attention of a lot of visitors towards it and eventually Click through Rates(CTR) going to increase as never before.
It is indeed an effective and affordable source that will enable you to achieve beautiful results in just over a shorter period.
In short, we can also say that if you are willing to have some quicker results regarding traffic gain, the Rich Snippet WordPress plugin is just the option waiting for you.
---
Caching Plugins for Your WordPress Website
Wondering why Caching plugin in the SEO plugins list?
No wonder, it's an open secret now, apart from the optimized content, the speed of the website is the most important factor to rank the pages. This is where a good WordPress caching plugin becomes so useful and added to the best SEO plugins for WordPress list.
In this department, I just have only two recommendations to make your site lighten speed.
WP Rocket (Premium Cache plugin with advanced Optimization options)
W3Total Cache Plugin (FREE). Paid comes with advanced caching options.
---
11. SEMrush
Adding one another unusual name in the list SEMrush is the plugin that has earned the hearts of millions by providing a vast range of beautiful features to the users.
One of the best things about this excellent tool is that you can use it for gathering analytics and insights from your competitors so that you can work on your website and make it more SEO friendly effortlessly.
SEMrush is indeed a more significant source that will keep you updated about the different aspects of SEO.
Whether it is about organic keywords to rank you up higher on the different search engines. And whether it is about getting backlinks from various sources or it is about updating on your opponent's advertising strategies.
It is indeed an ultimate source that is going to help you a lot in making the SEO for your website more effective so that you can quickly gain more and more traffic towards it.
The best part of SEMrush apart from their paid tool described above. They have also launched SEMrush Writing Assitant, which will let you optimize the content for any targeted keywords and increase the readability.
SEMrush Writing assistant is available as a WordPress Plugin and also if you write on Google Docs, they have a extension as well in Google Workspace Marketplace. Check them out.
---
12. Link Whisper – Smart Internal Linking Plugin
Recently I had a chance to use it. I loved this tool.
Link Whisper is a revolutionary WordPress plugin for automatic interlinking of blog articles that uses artificial intelligence in order to offer contextual internal link suggestions.
The tool not only saves a lot of time by automating the otherwise cumbersome process of internal linking. But also helps with Google ranking and, last but not least, enables readers to find relevant content more easily.
Get a copy of LinkWhisper from this link and get 20% extra discount.

Don't forget to apply the code as well, which is especially for this blog readers.

COUPON CODE – NAVINRAO
Conclusion on Best SEO Plugins for WordPress Site
Apart from choosing a Google Hosting Provider while starting your blog is also very important to choose the right set of SEO plugins to boost your site SEO. I personally, using RankMath SEO Plugin along with some additional Plugins mentioned above.
There are several factors involved which let your rank your content, you can't afford to avoid any of them.
Which SEO plugins you are using right now?