Curious about how people are making money online by writing? Well, learn how to start a blog. Making money from a blog is no rocket science at all. If you had already made your mind, Great decision!
You are about to bring the difference, in other's life by educating and yours being financially free. Yes, Blogging is awesome!
This is something only a professional blogger could feel. And you will be one if you have that courage and determination to slog hard.
Note: Don't go for easy money, it won't take you anywhere. If you have a craze of something and can write about it, blogging is for you. Just make your blog up and running and see the magic.
Hey, wait a minute! Surprised? Well if you are thinking blog is just a journal, how can you make money out of it? You are wrong.
Can I Make Money Starting a Blog?
Those old days have gone when people use to blog just for their hobby. Now, a blog can make you earn a lot of money as well.
YEAH, I mean it.
In this digital era, where people consume so much content on the web, that can make you realize the scope of blogging. No worries, I got you covered all the ways how bloggers make money from their blog. And how I do too.
It's possible to make a living through blogging as well. Start a blog following the below steps and let me know, I will help you in every blogging aspect.
---
How to start a Blog in 2021 – 6 Simple steps
All the successful blogs are on WordPress, because of several benefits this amazing CMS offers. So, it would be a good idea to create a blog on it.
Trust me starting a blog is not rocket science at all.
But, understanding the basics of blogging is a must. I know, it could go long but it was necessary.
So spend some time, grab a coffee and follow the simple steps.
---
How to Start a Blog And Make Money Through it?
Making Money Online tricks are something, on which every one keen about and for the very obvious reason.
After all, starting a blog is easier, but how to generate some revenue through it.
Don't worry I will show you briefly in this post how to earn money through blogging and how all the bloggers do so including me.
Let us get started and create your WordPress Blog and make it live right away.
Excited?
Yes, you should be! 🙂
First things first,
---
1. Choose a Domain Name
A domain name is the face of your brand. Think of a unique name for your blog which suits best with the topic you would like to write about. Make sense right?
I would suggest, instead of adding keywords into your domain name, better get with the branded domain name.
For instance, my first blog name was questioncage.com, I have chosen it because I want to write answers for technology-related questions.
That was an example to get an idea. If you are unsure of what you are going to write or later the topics can be saturated, then get a domain with or around your name. As this blog navinrao.com
I like a branded domain name. Although a lot of debates go on the keyword-rich domain name vs branded domain name. Let's not get into it.
Now I am sure you have already made your mind and chosen a domain name for your blog. If not, contact me, with the topic, I will suggest some cool ones for absolutely FREE, which you would definitely like.
But if you already made your mind, then follow the next step.
Click here to register a domain choosing the desired plan quickly on SiteGround itself, before somebody else gets that domain.
Or Still, into a dilemma, let me help.
Few points to consider while choosing a domain name
Make sure the domain name is short and easy to remember. – Like questioncage.com or navinrao.com or wpgrace.com
No extra characters or numbers in between. – Like "yourdomainname.com" is good, whereas "yourdomain$name.com" or "your-domain-name.com" are don't look good and not recommended at all.
That's it, don't think too much and spend your valuable time which would not matter much, instead focus on creating valuable content.
So, You got your domain name in your mind now.
SiteGround Shared Hosting

SiteGround is the most trusted hosting provider right now and creating a buzz by hosting millions of sites.
---
2. Choose a Blogging Platform
So, where do you plan to write your content? There are plenty of Content Management System in the market, which could be the best blogging for your dream blog.
This is where WordPress comes into the picture, and why not it is the largest CMS available right now and more than 33% of the websites are on it.
It's astonishing right, one blogging platform having such a huge market share.
Check out the statistics,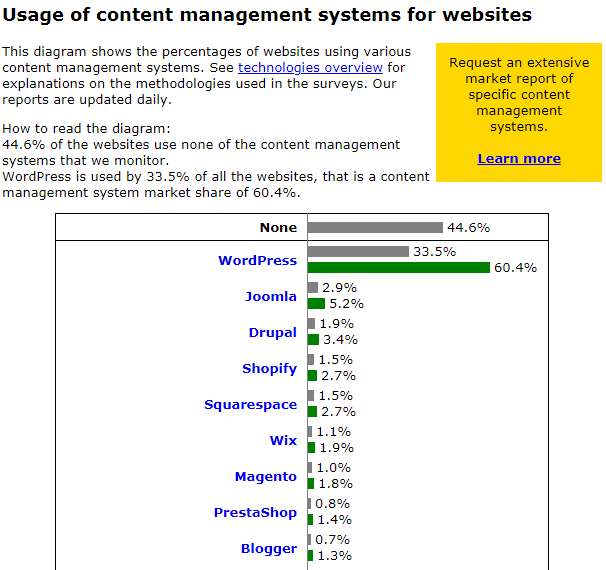 WordPress has plenty of competitors, like Joomla, Drupal Shopify, Squarespace, Wix, Magento, PrestaShop, Blogger. But none of it can stand even closer to it. All because of flexibility and offer reliability.
WordPress is a platform, where you can create a professional-looking website in no time. It's that quick because of it's easy to use and availability of a large variety of themes and plugins. Though that's not it.
It is safe and secure and moreover, you will have full control of your website unlike few free blogging sites which are hosted on their servers, but they can take your website down anytime.
Depressing right?
You can't put your hard work on other's hands and seek everything to happen well. This is why choose WordPress for any of your new website or blog. Fortunately, CMS is free of cost and can be hosted elsewhere.
Let's move on and choose a reliable hosting provider for your first blog.
---
3. Choose a Web Hosting provider and get Domain name Along with it
This is one crucial part of your blog creation. In fact, this is the root of your blog growth.
Why do I say that?
Let me give a little brief here why you need to find the best host for your blog.
A web host is providing shelter to your blog content and files. And that is why you need to make sure the shelter is secure and reliable.
Apart from that, the web host provider servers could provide that optimal performance so that your site could load faster than your competitor.
Although, there are thousands of hosting providers and it could put anyone into a dilemma which one to go with.
Check out a few of the Facebook Polls, what people talk about
I always recommended Siteground Host to anyone who wants to start their own blog. Yeah, and there are rock-solid reasons why you need to choose SiteGround.
Okay, let's move on!
---
4. Get SiteGround Hosting with a Domain
Step 1: Got to SiteGround Offered Page from here and get discount activated.
You will see three plans, Startup, GrowBig and Go Geek.
I strongly recommend GrowBig, with a lot of additional benefits and you can add multiple blogs in the same plan.
Step 2: click on the Get Plan Button.
Step 3: Choose a Blog Name
The same domain name that you have already have in mind, like navinrao.com. Yours could be something else and unique.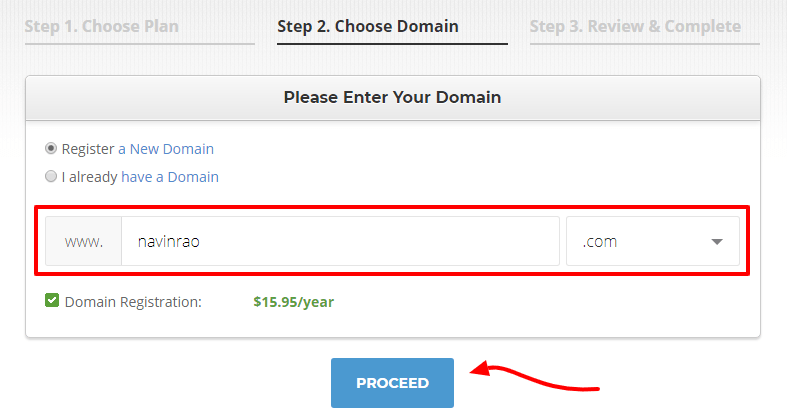 Enter it as shown in the image and click on Proceed.
Step 4: Here a little Boring Job but necessary, Fill all the Account Details
Step 5: Fill Out the Payment Information form your Debit or Credit Card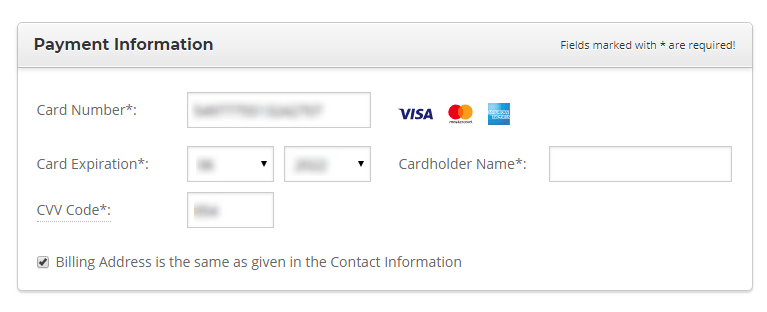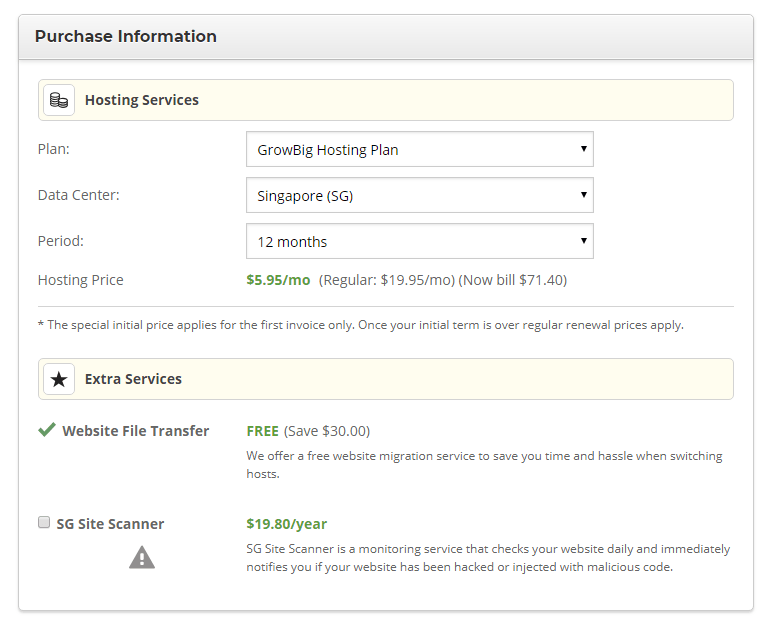 Step 6. Agree with the SiteGround Terms and conditions and you can also subscribe to their offers. I did too. (though the second one is optional)
Step 7. Click on the Pay Now button

Hold on,
It will take a few seconds for the payment to get completed and you will receive a Thank You Message. Do not refresh the page.
As done, ow you will get the important details of your SiteGround Hosting account to your registered email. Check those and login to your SiteGround account, by click on the Launch Wizard Button.
Hoo! You are almost done.
Now only you need to set up your website. I will walk you through in the simple step by step tutorial.
---
5. Setup Your WordPress Blog
I hope you can see a dialog box asking to choose an option after clicking on the Launch wizard Button received on your email address as shown in the above image.
Hmm. That might look similar to this one, check out
As we are setting up a new website, Check it and Choose WordPress from the bottom to set up your blog on WordPress. It's the best.
Once done, come done below and create your Login Details to the beautiful WordPress dashboard.

Your email address, username, and Password. Make sure you note it down somewhere as you will need these details later. Once done, click on the "confirm" button.
Now, agree with the TOC and Privacy policy by checking it and click on "Complete Setup"
Wait for a few minutes, as it will set up your WordPress. You will receive a dialog box once done.
Click on the "Proceed to Customer Area" button and it will take you to your SiteGround Account.

Click on Go To Admin Panel Button.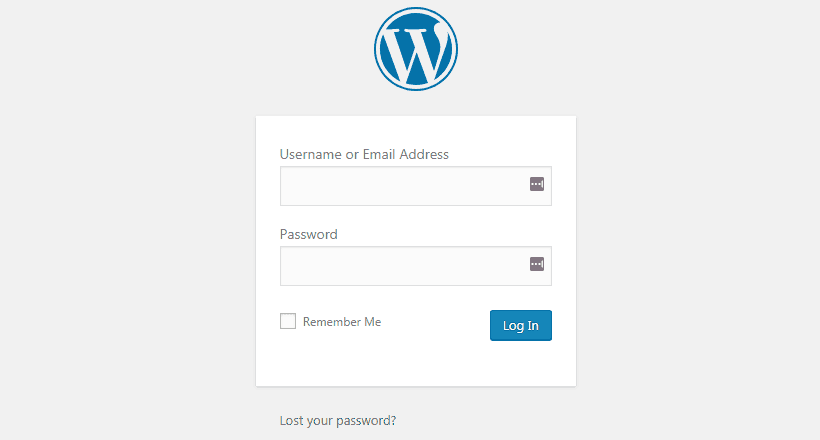 Enter your login details, username, and password you have created earlier and click on the Login button. This will take you to the amazing WordPress Dashboard.
Hurray, your first blog is all set and live now.
Simply bookmark the login URL, it might look alike yourblogname.com/wp-admin
Next time to login you will need this URL, yours could be something else, but wp-admin should be common for new websites. Though for security reasons you can change the Login URL and make it unique.
---
6. Get a Blog Theme For Your Blog:
Hmm, finally the blog has been live now!
Finally, the design part, by default WordPress installs a blog theme on your blog.
Check out the live version – yourblogname.com to see how your blog looks right now.
Boring?
It has very default features involved and a basic theme. But, yeah you can not go with it as it's not completely SEO friendly and well optimized to run a blog.
Make your blog stunning and user-friendly.
Users don't want to go through a website, which is cluttered and not user-friendly. Therefore a bad design will not help grow your business. I always go with the minimal and SEO optimized themes.
Things you need to look while choosing a blog theme.
It should be lightweight and well coded.

Optimized for Search Engines

Speed Matters

Clean and Minimal

Flexible and customizable(think of the long run)
WordPress.org offers a huge collection of free WordPress themes and is pretty much preferable.
But, free themes are restricted to some functionality if you don't have coding knowledge. if you are looking for something more unique. Then I can suggest a few of the websites which are very popular to provide SEO friendly WordPress themes.
MyThemeShop, StudioPress is well known in the industry, as their main focus is to create a lightweight, fast-loading and SEO Optimized WordPress theme without any doubt as I used it already.
Bonus: I have supercharged my blogs by a few themes like GeneratePress too, which are creating a revolution in the WordPress industry right now. Although they offer the theme for free, the options are limited.
The theme is ultra light-weight and minimal. I strongly recommend getting their very affordable GP Premium Addon if you would like to activate their tons of extra features and take your blog to the next level. By the way, this website is on GeneratePress right now with their GP Premium features.
Install a theme
It's super easy, although are two ways how you can install and activate the theme, by uploading already theme you have and even by using WordPress search feature.
Dashboard – Appearance – Themes – Upload or use search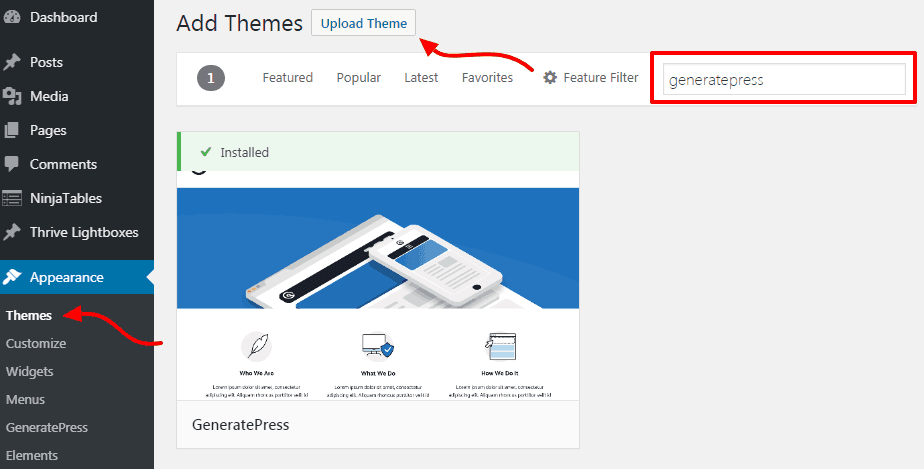 Note: The theme exists in the WordPress repository is free, but has footer credits of the developer and not with fully loaded features. If you are serious about blogging, then go with the premium WordPress theme like GeneratePress.
What next?
---
7. Find a Blog Niche To Start Writing
If you are not sure, what niche is? Let me explain and make it simple.
The topic or even a sub-topic you would like to write about is called a niche.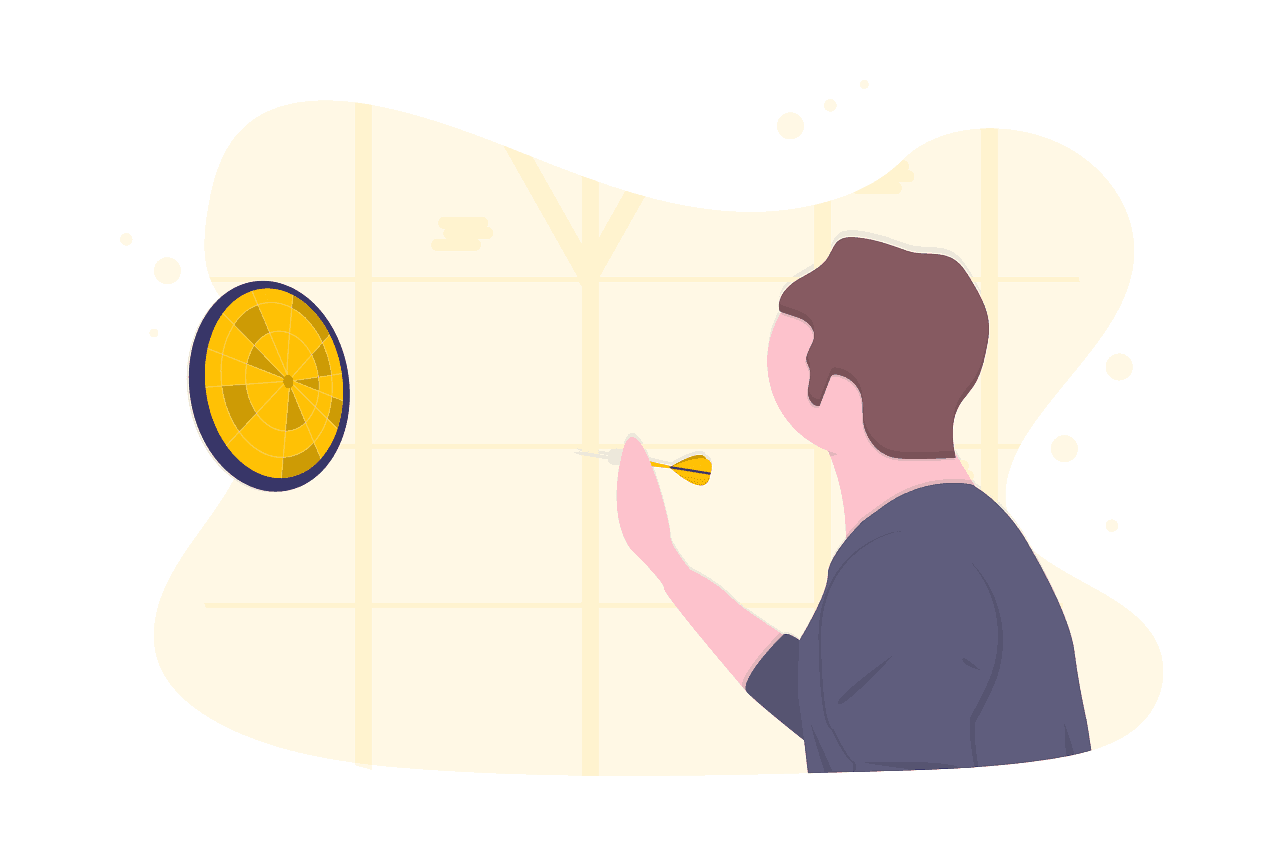 Be specific while choosing a particular category. Choose a small topic, don't let it saturated too much.
Be picky here, take your time and think about it.
Choose a topic on which you are best at. So that as time passes you won't lose the interest to write about it.
For instance, I am good at WordPress and like to share WordPress tutorials so I had limited this website to that particular topic only. You will find the blog posts only related to WordPress in this website.
I did a mistake in the past with one of my earlier blogs, and the result I had to SHUT IT DOWN. I don't want you to do the same.
Bonus Tip: Don't complicate things too much by checking the competition and all. Competitions certainly matter, but your interest in that topic matters even more.
If you thinking where already the giant exists, who will read your blog, there is always some room remained. Choose what you're best at.
Still into a dilemma, where to go. That's fine, let me help, by suggesting a few of the topics which could help you make your mind.
Profitable Niches for your Blog
Though there are many profitable blogging niches to choose. But, if you are starting your first blog, then I would recommend starting with the topic which you are good at.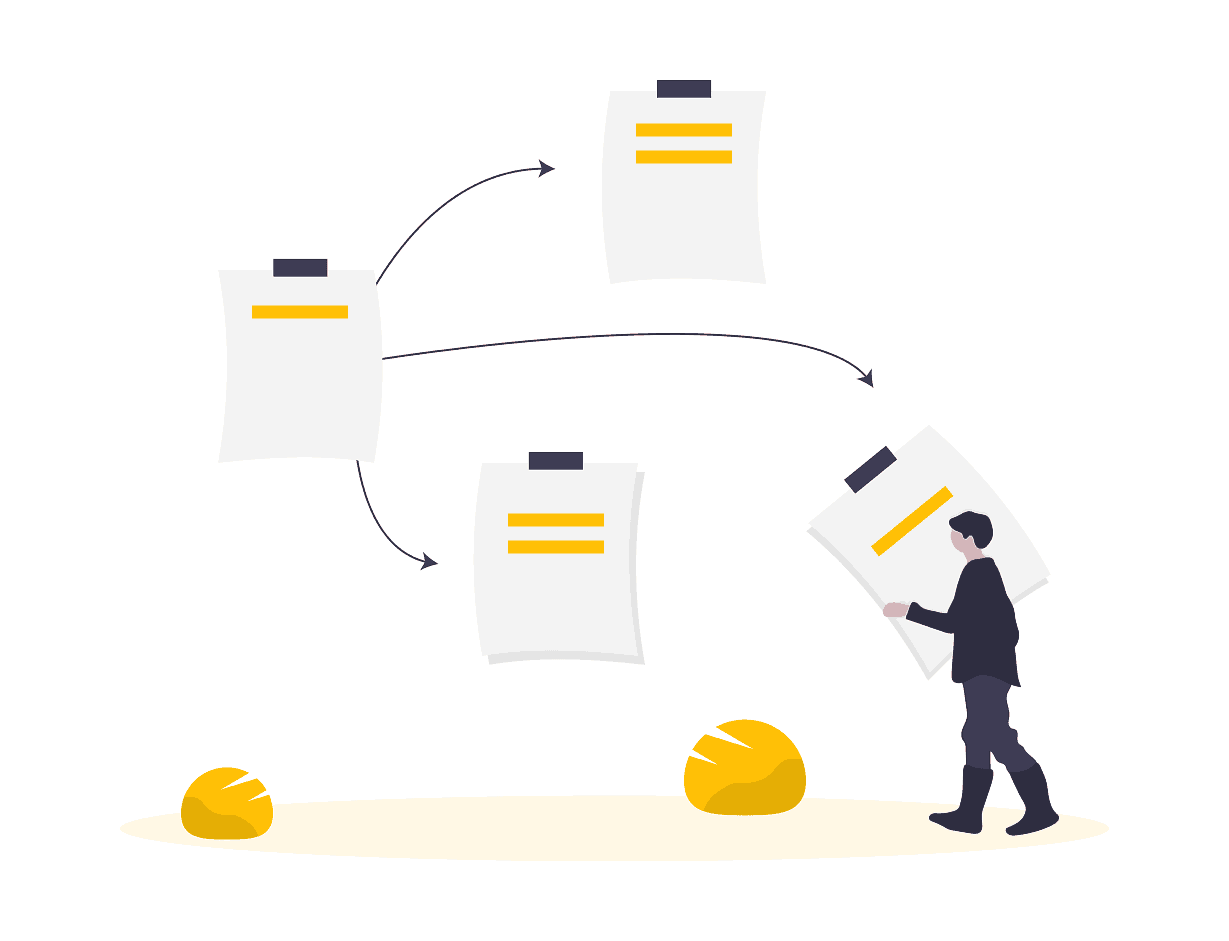 Almost all the niches are profitable if blogged well.
Still, to get an idea, and explore yourself I want to give an idea of the popular blog niches which are performing well and profitable.
How to Make Money
Personal Finance
Health and Fitness
Travel Blogs
Home Decor
Food
LifeStyle
These are just a glance of a few which are worth starting a blog and make money online. Write with all the passion and expertise on it, and you will gradually see the difference in the revenue.
Now though, you have given a proper look to your blog, chose a profitable blog niche to start your blog. The next aspect is installing some useful WordPress plugins for your blog.
There are thousands of plugins available free in the WordPress repository. But, not all of them are good for your blog. The wrongly coded plugin can hard your site. Anyways why to talk about them.
Let's see which are the essential plugins to be installed.
Essential Plugins you should have on your Blog
Yeah, WordPress plugin makes your job easier as it handles and automates plenty of things, and hence you can be more productive through creating valuable content for your blog.
For each category I will suggest two best plugins, you can choose either of them.
1. SEO plugins
Yeah, you need an SEO plugin to manage your WordPress website effectively and check the OnPage SEO score while writing the content. You want to rank your blog posts on the search engines right?
Yoast SEO and RankMath Plugin is my choice, both are free.
2. WordPress Comment Spam Plugins
Yeah, you need to prevent your WordPress blog with the spam comments as well. People automated comments of the blog for the sake of building backlinks, which do not work accepting at all. And you can not moderate all of them.
In this area I would recommend Akismet(installed default by WordPress), my other better recommendation is Anti Spam WordPress plugin.
3. Security Plugin
I don't have to say, you have to make your website secure so that no one could get into it.
My recommendations are Ithemes Security (Formerly known as Better WP Security) and WordFence, the most popular one.
4. WordPress Caching Plugins
The speed of your blog is important, right?
Yeah, this is where WordPress caching plugins play the role. It will make your website ultralightweight by optimizing the codes and cutting down the third party request and also storing the cache of the static content in the servers for better delivery the next time.
If you would like to get started with a free WordPress plugin then the W3TotalCache is awesome amongst the free ones. And if you are looking for a premium one nothing can beat WP Rocket, which I use on all of my blogs. Although, starting with free caching can also be a good way to go.
All done, how do you monetize your blog now?
How Bloggers Make Money From Their Blogs
Though, I think you might have done your homework already on blogging and bloggers make money online.
Still, I would share those monetization methods so that you can monetize your blog swiftly. Though, not instantly.
Initially concentrate on wiring useful content and rank on the search engines following the SEO tricks and drive traffic from social media.
The money will start flowing, once the traffic for your blog increases. So work on driving more and more traffic from multiple sources.
Still good to know about future monetization plans in advance.
You might have populated with several questions right now. How do bloggers get paid and how would even beginners blogs make money as there is not enough people know about your blog.
Here are a few blog monetization methods you can go for,
How to Beginners blogs make Money
There are several ways how bloggers make money, but here let me share the most common ones any new of veteran bloggers do.
By the way, many bloggers are full time in this business and making a living out of it.
How do Bloggers Make Money For their Living
Monetize with CPC or CPM based Ads (

Google Adsense

and

Media.net

few popular ones)

Selling your Freelance services Through blog – Designing, Writing, Making websites, or anything you are good at.

Affiliate Marketing

Sell Ad Slots

Accepting Sponsored Posts

Write Product Reviews

Flipping websites (Make websites and sell it)
More Income Streams can get activated as Blog Grows
Selling Digital Products (E-books, Courses, webinars)

Start Consulting business

You can also Coach new bloggers
Final Thoughts on Creating your own Blog
Don't get trapped on free things like free domain, free hosting, free blogs or platforms if you are serious about blogging.
Consider blogging as a business, and in most of the businesses you have to make a huge investment, but you are not doing the same amount of investment in blogging. Still making money. Small and fair investment right?
Have a plan for your content strategy.
Structure of the blog post well and make it valuable.
Think from the reader's perspective you will be able to do that.
If these are being taken care of, you are ready to start a blog in 2021 without any hassle and make profits from it.
Happy Blogging! If this helped you, sharing could motivate and help your friends as well. 🙂
If you still feel starting a blog is too technical and you don't want to handle this.
No, worries, we have a WordPress Blog Setup Service for you. Just follow the steps, to get your blog up and running.