---
If you know about Internal Linking SEO, you might have heard of this Smartest Internal Link Plugin. Linkwhisper suggests the internal links while you write your blog posts right from the WordPress Gutenberg Block editor or Classic Editor. It works with both and this Linkwhisper coupon code too. 🙂
What could be better than that, it uses Artificial Intelligence to read the text and suggest the most relevant links for your content to make the SEO better. Internal links are crucial and powerful, as it passes the link juice within your website and speaks loader about the content relevancy.
---
How to Use LinkWhisper Coupon Code?
The extra discount of 20% will be applied only when you use the above coupon. This coupon is exclusively for the blog readers.
You need to follow the below instructions to get the discount on LinkWhisper and enjoy its features. It is known as the best fully loaded features internal linking plugin in the market. If you already know the power of backlinks, then definitely know about internal links as well.
1. First, you have to visit LinkWhisper Website.
2. Now click the Get Link Whisper Now button.
3. Now Choose one of the plans which suit your needs and click on the Get Started button to apply the coupon code.
LinkWshisper has 3 plans, which are self-explanatory, Nothing hidden.
Single Site License
3 Site License
20 Site License
Note: All the features are the same for all the plans of LinkWhisper. Either it is Link Reporting or Smart internal link suggestions. You can choose the First plan if you have 1 site. Although, higher plans are much beneficial if you have multiple sites. And this Link Whisper Coupon code NAVINRAO makes those much worthy and affordable.
Link Whisper 20% Coupon Code
---
1

Now Enter LinkWhisper Coupon Code

4. Now, to apply the Link Whisper Coupon code, click on "Click to enter it".

5. This will allow you to enter your Link whisper coupon code "NAVINRAO" Click on Apply to see the difference and coupon to get applied.
Note: Remember, you will get this hefty discount only after applying NAVINRAO coupon code as shown in the image below.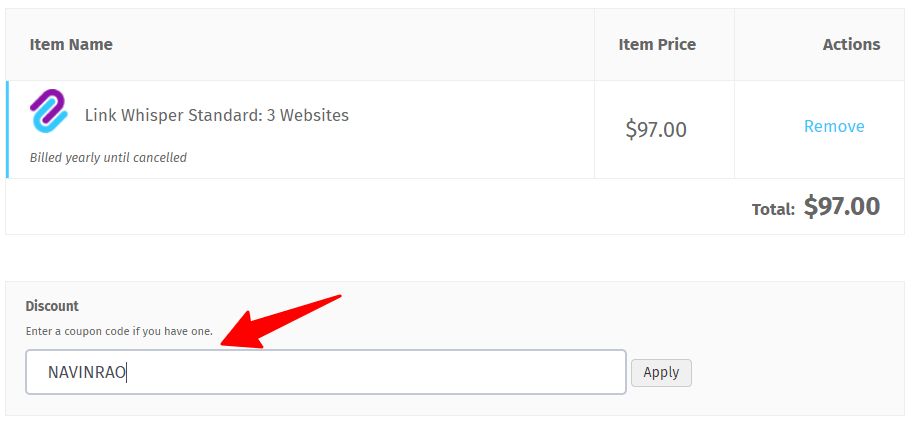 6. Check the below image to see the price change of 20%.

7. After the coupon gets apply, choose the payment mode to make the payment.
LinkWhisper WordPress plugin offers Credit Card/ Debit Card and Paypal payment options. Choose one of them to make the purchase. I made it through Debit Card for this tutorial.

2

Enter Personal Information

8. Fill your personal details, i.e Email Address, Name, etc.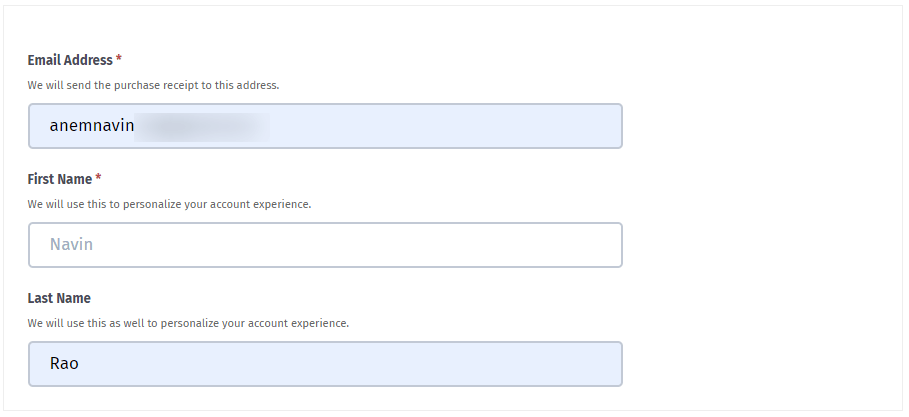 9. Now Enter your payment details, i.e,
Card Number(16digits)
CVC (3digits). It can be found on the backside of the card.
Your name, of course
Card Expiration details MM/YY (Can be found on your debit/credit card)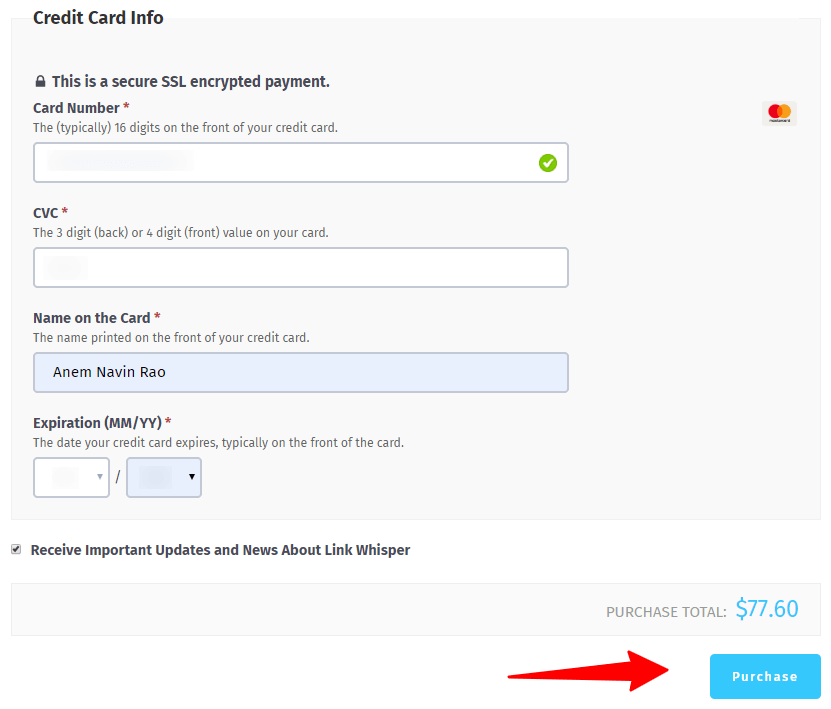 10. Finally, click on the purchase button to complete the purchase and own this smart links plugin to boot your site's SEO.
And once done, you will be redirected to the LinkWhisper Dashboard, where you can download the plugin and even manage your licenses.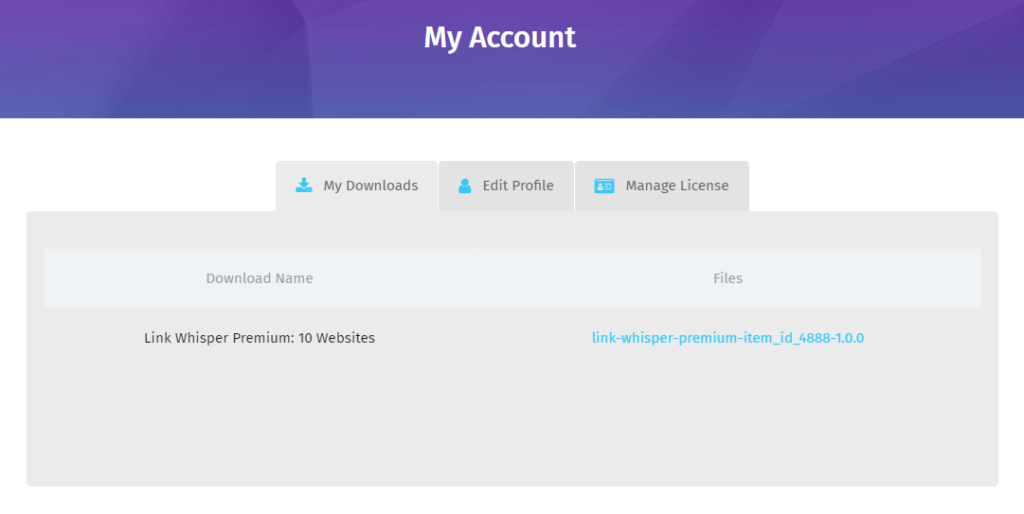 Linkwhisper is a plug and plays internal linking WordPress plugin so you don't have to worry about Linkwhisper settings. The default ones are working great for me. Although, you can always make some tweaks to fit your needs.
I always consider and recommend to use such a smart internal linking plugin along with your existing SEO plugin to boost the overall SEO of your website.
---
FAQs About LinkWhipser Coupon Code
There are several internal link plugins, but Linkwhipser comes with Ai technology hence, suggest the best smart linking method. And moreover, it comes with great customization options. I like it, after using many. Though, it's common to have pre-sale queries, which I too had, and glad I started using it.
Here are some frequently answer questions about Linkwhisper.
🙋‍♂️ Does links created with Linkwhisper works after uninstalling the plugin?
The most asked question, Answer is YES. Link Whisper creates internal links, just like you do manually. It won't leave any codes there. So, the links remain the same as is.
🙋‍♂️ Is Linkwhisper recommended for a new WordPress website?
SEO has to be done, right from the beginning. And if your website has above 40 blog posts, internal linking could be difficult and chances are webmaster would miss it, but tools don't if we customize it.
🙋‍♂️ What if I Want to Remove Links After I Make Them?
Why not, you can remove them anytime, and make new ones. You can also specify some keywords in Linkwhisper settings. So that it can automatically link to.
🙋‍♂️ Will Link Whisper Help Me Rank Better in Google?
Internal Linking are more powerful than the links which we receive from another website. Certainly, it helps in ranking.
🙋‍♂️ What is Required to Use Link Whisper?
You just need to have your website running on WordPress to install the plugin. I believe you have one.
🙋‍♂️ What if I Don't Like the Link Suggestions from LinkWhisper?
No big deal. It too easy to customize the link whisper settings. You can include certain keywords you might want to ignore. Many more settings to play with.
---
Final Verdict on LinkWhisper Coupon
No wonder, you realize how internal linking helps the sites to rank. So, I am not getting further into it.
LinkWhisper WordPress Plugins fulfills all the requirements and saves a lot of time. To be more productive and boost the site's SEO, installing this robust plugin would completely make sense to me unless if you really new site with fewer posts.
Install and relax, let this smart SEO plugin do the job. And moreover, the 20% discount code makes it even more affordable.