It's important to add Google Analytics to your WooCommerce store for growing it. One has to analyze the statistics and data and plan the content strategy accordingly. Tracking performance is the only way to beat the competition. I am sure you understand how important it is.
Fortunately, Google Analytics offers an enhanced eCommerce tracking system. That is where you will understand all the customer behavior towards your website. Certainly, that would help you to optimize the website further and make more sales and revenue out of it.
Shopping Behavior
Customer Checkout Behavior
Individual Product Lists Performance
Sales Trend (Transactions)
---
How to Set Up WooCommerce Google Analytics Using Enhanced eCommerce
We will be good to setup enhanced Google ananytics for your Woocommerce store if you follow below quick steps.
Step 1: Install MonsterInsights and the eCommerce Addon
Quickly install and active MonsterInsights on your WordPress site to get started. It is well known and become one of the best Google analytics Plugin around.
It efficiently correlates all the required data and provides great insights to you to be able to optimize your store. Without getting your hands dirty touching codes.
I believe that, you have installed MonsterInsights WordPress Plugin. Now, we have to activate the eCommerce Add in order to set up enhanced eCommerce for the WooCommerce Google Analytics tracking.
Go to Insights >> Addons and then navigate to the e-Commerce section. Click on the Activate Button.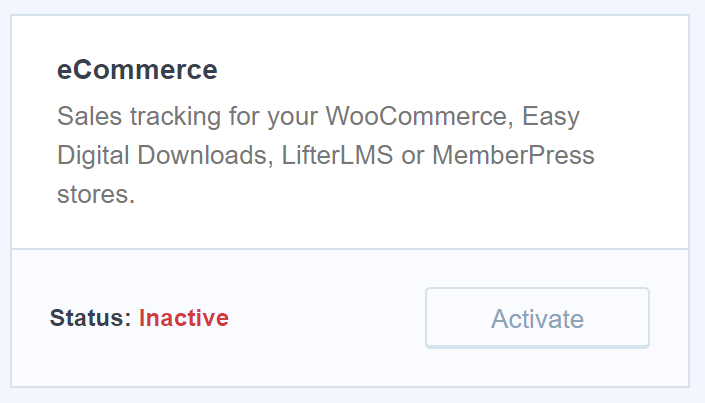 As you have already activated the e-Commerce Add-on, now let's hop into our Google Analytics Account.
Step 2: Enable Enhanced eCommerce Tracking in Google Analytics
Login in to your Google Analytics to access the dashboard.
Select the account you want to activate Enhanced eCommerce tracking for.
Now, Click on Admin (Gear Icon) from the bottom left in Gooogle Analytics.
Click on Ecommerce Settings from the right column. Check the below image.
Now this will provide two more options in e-commerce set-up, which need to be enabled.
E-Commerce Set-up
Enable Enhanced Ecommerce reporting
Enable both the options to activate Enable enhanced E-commerce tracking.
Click on the Save button.
Step 3: Enable Enhanced eCommerce in MonsterInsights
As you have enabled enhanced e-Commerce tracking system. It now needs to enable the Monster Insights too, so that you can see the detailed data right from there.
Jump into your WordPress Dashboard >> Insights >> Settings.
From the top tab, select e-Commerce
Enable the option Use Enhanced eCommerce, to get started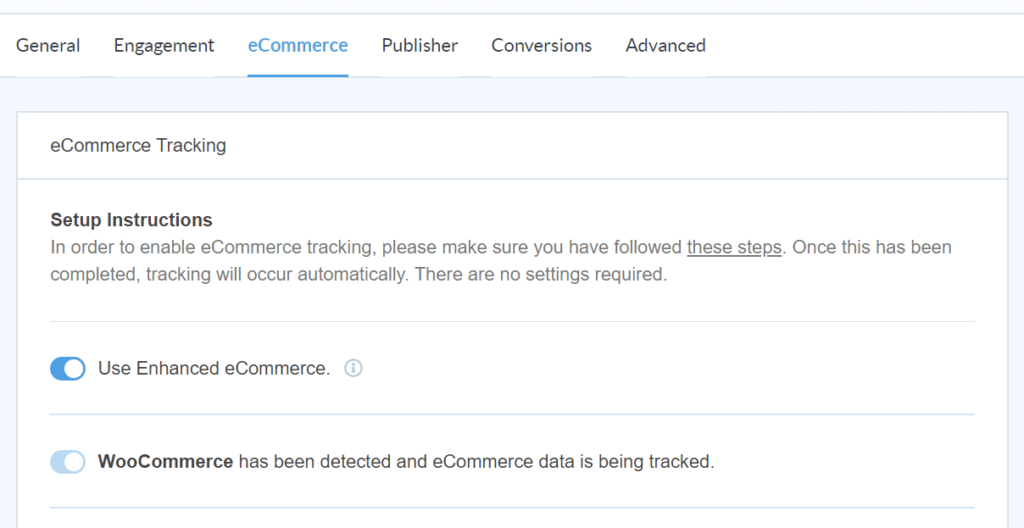 That's it. We are good now. This will automatically start tracking your WooCommerce store.
The tracked data will be so detailed that you would get each and every aspect of the user behavior. To find the tracked data Insights
Analyze the data and make the decisions in your favor to grow your business.
Recommended Read: How to Create Event Tracking with Google Analytics in WordPress