Creating Forms are a great way to increase engagement for your WordPress site. Have you ever thought of creating a multipage form? Think about, it's fruitful.
You might, have already created few forms, but segregating the forms has its own advantages. It increases user engagement as a user finds it much convenient than multi-field and never-ending forms.
In short, it makes the user experience better and let it convert for you. Don't have an idea, how to create a multi-page form in WordPress website?
No to worry about, I have got you covered through the article.
Why You Need a Multi-Step Form on Your Website?
Well, its good to talk about it, before stepping forward and creating a multipage form for your website. It will give you a fair idea, why multi-step forms are crucial for any website.
No one wants to perform too many actions, isn't it?
This is why it's so essential to create a form that encourages the user to take action one by one. On the other hand, adding too many steps in the same WordPress form would not. Well, a multi-step form is nothing but a form divided into multi-pages to make the process easier and increase the conversion rate of your WordPress website.

Researches show great statics in the growth in conversions.
The reasons why you need a Multi-Step Form in WordPress Website.
Filling forms are boring, but a filling a multi-page form excite the users.
They won't bounce back, without complete the actions.
Pro Tip – Don't ask for too much info which is not required, Focus on what's required for better conversions.
How To Create a Multi-Step Form in WordPress?
Let's walk through to create a perfect multi-page form in WordPress.
The best tools would be WPForms Pro to make a multi-step form in WordPress, which comes in $39 for the entire year.
---
1

Start Creating a Form in WordPress
Get WPForms Pro Plugin, install and activate on WordPress.
From WP Dashboard >> WPForms >> Add New to create a new form.
You will see multiple types of already creating forms there. I recommend choosing any one of them instead of creating from scratch, it will save you time. Of course, you can customize those as well.
Blank Form – If you want to create any kind of form, from scratch. The blank form allows you to create any type of form using the drag and drop builder.
Simple Contact form – If you wish to create a contact form with predefined templates. It allows your users to contact you with this simple contact form. You can add and remove fields as needed.
Newsletter Signup Form – Add subscribers ad grow your email list with this newsletter signup form. You can add and remove fields as needed.
Suggestion Form – Ask your users for suggestions with this simple form template. You can add and remove fields as needed.
Request A Quote Form – Start collecting leads with this pre-made Request a quote form. You can add and remove fields as needed.
Donation Form – Start collecting donation payments on your website with this ready-made Donation form. You can add and remove fields as needed.
Billing / Order Form – Collect payments for product and service orders with this ready-made form template. You can add and remove fields as needed.
We will choose a simple contact form and edit it, to create a multi-page form in this WordPress tutorial.
This will create a decent contact form, with few fields like the first name, last name, email, and message. Well, WPForms are easy to use and a drag and drop editor to create any kind of form.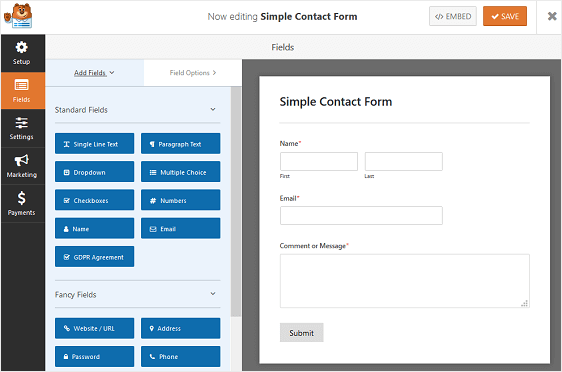 You will find many fields in the right pane, which can be easily added by drag and drag as per requirement.
Remember after adding the fields you can edit the form accordingly with ease, editing text, rearranging the order by simple drag and drop.
This is the time to make this simple contact form to a complex or probably the desired one. I meant to make a multi-page form in WordPress to let it do the job for you. You can create any kinds of forms with this one like,
Request a quote form
Job application form
Order form
Survey form
Poll form
User registration form
Create a Testimonial Collection Form
Accept Donations
Collect Payment for Your Service
Create engaging Quizzes and what not.
Scopes are endless. You just need to be creative while creating a form for your website. A few mins time and you are good for a long time.
I believe you have already created a decent form adding the required fields, now its time to split the form to make a multi-page WordPress form.
---
2

Split the Form into Multiple Parts

It's pretty much simple too.

You just need to add some page breaks in between the fields to split the form into multiple pages.
Isn't it simple right. All you got to do is decide what are the fields required on a particular page and add a page break. Do the same for all the pages as well.
Pro Tip – Don't let the multipage form exceed 5 pages. Generally, 3-5 pages are a decent number and ability to convert. I recommend 3 pages.
---
3

Customize the Progress Bar

This would completely varires according to your business requirement and taste.

WPForms allows a lot of customization to make your own form the way you want. Let me tell, the required ones to make the user experience better.

It, a fair idea to make the user know how many pages are there. You can do so,
by showing the progress bar on top of the form
by showing the page number in the circle
by showing the connectors, stepwise
You have seen the above image, it is user-friendly right, you can do it too.
By clicking on the First Page break area, you can easily customize the progress bar, the page title of the first page of your multi-step form.
---
4

Add Your Form to Your Website

So, finally, you have created a multi-step form with some efforts. Now it's time to add it to your WordPress website.

If you are wondering, where you can add the multi-step form. Well, there is no limitation at all, you can add the form anywhere on your website.
Sidebar
HomePage
Within the Content
Contact Page and so on
Let's try to do this on the contact page, as an example.
Open your Contact Page >> Edit Page
Click on a block, and then click on an Add WPForms icon.

This will open a popup, select the form you have created to embed it or insert it on the page.
Once you do so, you will see the form on your page.
Click on the update button.
Within no time, you have created a multistep form, customized it, and embedded the form on your website too.
Conclusion
After performing the above steps to create a multi-step form, you are good to go. Now let the form capture do the job to grow your business.
Creating forms with WPForms is fun and it is very good from the user experience as well. Better user experience means better conversions.